If your business generates a high-volume of compactable waste, a Compactor System may be the perfect solution to efficiently manage your waste and/or recycling needs.
Reduce waste pick-ups
Enhance employee safety
Cut costs and labor requirements
Promote recycling
Reduce fire, security, and health concerns
Improve aesthetics
Self Contained Compactor
Waste generators such as hospitals, hotels, shopping malls or commercial/industrial food waste generators can control their wet waste disposal and ensure environmental protection with this self-contained compactor unit. Our compactors and containers are constructed of heavy-gauge steel and are totally enclosed, keeping wastes secure, inaccessible, and less likely to leak or attract pests.
Stationary Compactor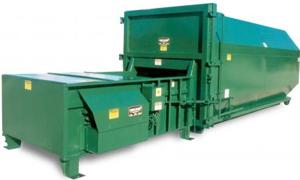 In applications where there is large bulky waste, dry waste or cardboard, a stationary compactor maybe the right solution for your operation. These machines can have large hoppers to accommodate large quantities of waste.