Country waste services, provides consistent and courteous trash and recycling collection to single and multifamily residences in Wilton CT. The Company that homes owners call for Wilton garbage collection is Country Waste Services.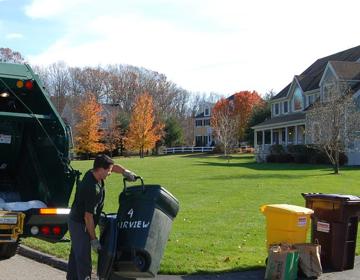 Garbage collection services available in Wilton:
Residential trash service in Wilton
Recycling service in Wilton
Junk removal in Wilton
Bulk waste removal in Wilton
Dumpster rentals in Wilton
Commercial trash service in Wilton
WILTON CONNECTICUT RESIDENTIAL TRASH COLLECTION
Wilton is a residential town rich in New England history. The first written records of the areas that are now Wilton date back to 1640, when Roger Ludlow and his friends purchased land from the Indians between the Norwalk and Saugatuck Rivers and "a day's walk into the country." This land was called Norwalk. The transformation from a small farming town to a suburban residential community of approximately 18,000 has been carefully controlled by zoning and through the preservation of the town's older colonial landmarks. The town has had the foresight to preserve almost 1,000 acres of open space for active and passive recreational use. Although there is limited land remaining for development, Wilton retains much of its open feeling and rural atmosphere. Winding back roads with trees, streams, ponds, woods, and rolling hills are all part of the Wilton's beauty and charm and afford privacy as well as a pastoral setting. Wilton host several annual events each year that draws hundreds of visitors to the small town. The ambler Farm Day is a yearly fall festival that is held the first weekend of October.
Residents and businesses in Wilton call Country waste for all their residential trash pickups, dumpster rentals and garbage collection service.