Residential and Commercial Services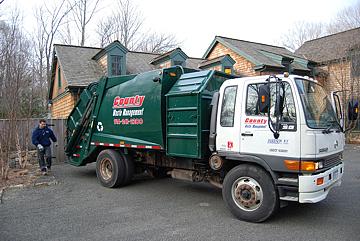 Country Waste Services is a full service company providing residential, commercial, and construction waste services throughout Fairfield County.  Our customers range from residential homes, retail stores, manufacturing plants, and office buildings.  At Country we believe no customer is to small or large enough to service.  As a family owned company, our focus is exclusively on our customers and employees, not shareholders. This allows us to structure our company and our services around you and your needs. Decisions are made locally, quickly, and are implemented effectively.
Dependable Service
Country Waste collects solid waste and recycling from commercial, residential and industrial customers.  At Country, we understand the importance of dependable service and are aware of our responsibilities to our customers, from the intial waste generation to its final destination. Our modern fleet consists of front end loaders, rear load packers, roll-offs, and compaction units that can handle all your waste needs. In addition, we have over 25 years experience operating transfer stations and a recycling processing center.
Experience and Training Counts
Our personnel are trained, experienced professionals, dedicated to providing every account with prompt, dependable service, offering fair and competitive rates at the lowest possible rates. Through our experienced waste management team, we can identify your waste problems and implement a waste plan customized to your specified needs.
Today there are many complex issues surrounding waste management.  We realize that understanding our customers needs is a priority to the success of our business.  From commercial collection to residential, to recycling, Country Waste has the experience and facilities to design programs that will meet your needs.