Country waste services, provides consistent and courteous trash and recycling collection to single and multifamily residences in Brookfield, CT. The Company that homes owners call for Brookfield garbage collection is Country Waste Services.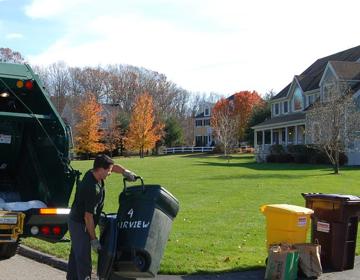 Garbage collection services available in Brookfield:
Residential trash service in Brookfield
Recycling service in Brookfield
Junk removal in Brookfield
Bulk waste removal in Brookfield
Dumpster rentals in Brookfield
Commercial trash service in Brookfield
BROOKFIELD CONNECTICUT RESIDENTIAL TRASH COLLECTION
Brookfield is the home of 17,000 residents who have the good fortune to live in the beautiful rolling hills of western Connecticut. The two largest lakes in Connecticut border the Town, Candlewood Lake to the west and Lake Lillinonah to the east. Our citizens enjoy outstanding recreational facilities and spectacular scenery. The Town has a wide variety of home styles and values, excellent schools and a vibrant commercial . Brookfield has two town parks: Cadigan and Kids Kingdom. Cadigan Park on Candlewood Lake Road provide residents with swimming, tennis, lacrosse, football, volleyball, lakefront and shaded picnic areas, pavilions and playgrounds for enjoyment by the whole family. Kids Kingdom, renovated in 2012, is located on the Town Hall property on Pocono Road and offers a wide range of age-appropriate recreation activities.
Brookfield Connecticut residents and Businesses contact Country Waste for Dumpster Rental and Residential Trash Collection Service in Brookfield. If you need Garbage Service in Brookfield call Country Waste.